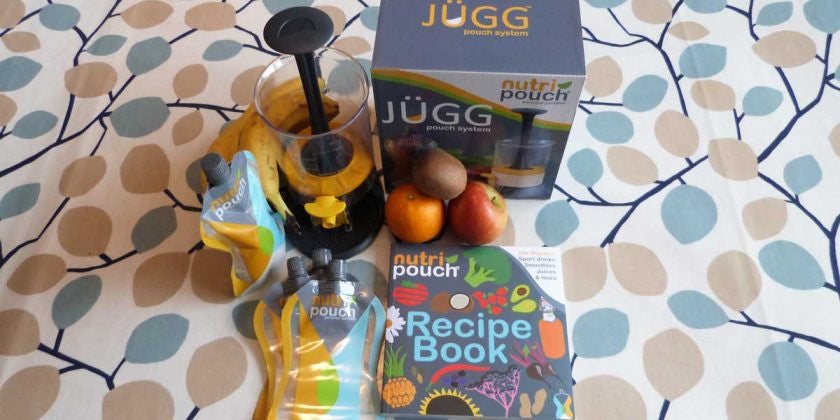 A homemade sports nutrition system, whether it's running, cycling, or surfing, the Nutripouch aims to make homemade sports nutrition easier to store, transport and consume on the go.
Over the last five years, smoothies have shot to fame. They are a nutritious snack on the go and count as several of your five a day. But people are not only buying pre-made drinks in the supermarkets, they are also choosing to make their own at home. Raw ingredients are usually a lot cheaper, and people can choose exactly what goes into their smoothie. Great for reducing the sugar content of the drink, upping one particular vitamin dense ingredient or changing the flavour to suit their palate.
But people can often struggle when it comes to consuming their homemade beverage on the go. A bottle is often inflexible and bulky, making it difficult to hold and drink from. But UK brand Nutripouch have come up with a solution to make consuming homemade drinks on the go much easier.
Nutripouch has developed a pouch filling system which encourages users to make their own liquid snacks and fill it in 250ml pouches. These pouches are ideal for transportation as they fit into tighter spaces in a bag, lunch boxes, pockets or can even be strapped onto your arm. The pouches' flexible nature makes them perfect for denser beverages like smoothies, juices and even soups, as the user can squeeze out the contents to the last drop.
The Nutripouch comes with five pouches and a Jügg Filling System. Users can blitz up ingredients in the Jügg or can do so separately and then pour the liquid into it. The plunger is then placed inside the Jügg. Users attach a pouch at the bottom of the container via a nozzle and then push the plunger down. This squeezes the drink inside the pouch.
The Nutripouch also comes with a really detailed recipe book with 50+ recipes on how to make smoothies, soups, juices, remedies and other drinks specialised for sports and fitness. This is a fantastic resource and the recipes only consist of around five to eight ingredients making it really easy to follow. Another huge advantage is the image key code. Each recipe is accompanied by a couple images telling you how it benefits you. Some are designed to aid in recovering after exercise, others boost energy levels, while others are designed as a detox, boost complexion or have a calming effect.
The pouches themselves are BPA and Pthalate free and can be reused around 50 times. Another great advantage is that they are freezable and microwaveable. This makes them perfect if you want to bulk make drinks, which you can then store, or if you want a cold 'slushy' drink on a hot day.
Conclusion
The Nutripouch is a nice concept and would be useful for those who make their own drinks, soups, gels and energy drinks for hiking, cycling and other sports.The recipe book is a nice addition as it is full of useful and creative recipes.
https://www.adaptnetwork.com/lifestyle/nutripouch-review-a-homemade-sports-nutrition-system/